The Musical Voyage of Larry 'Mo' Jackson- and friends
---
THE CHRYSLERS MOVEMENT PLUS: A moment to reflect ...
Click any photo to see it enlarged view.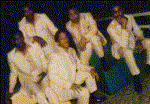 Coppins State Teacher's College Circa 1969
Seated LF is Bert 'Rabbit' Murray- 2nd. tenor/leads; LRr is Darnel McManus 1st tenor/leads/music arranger; LRr standing is Randy 'The Hippie' Hammond leads/2nd tenor/baritone/choreographer; RR seated is Larry 'Moe' Jackson 2nd tenor/baritone/1st tenor/leads/music arranger/composer/choreographer/band arranger/trumpeter; RF seated is Wendell 'The Wolf' Amprey leads/bass/choreographer/arranger.
The boys had grown into young 'supermen' (The mind-set of young, impressionable men). Thus, the Vietnam War and the military were calling several of these CHRYSLER'S MOVEMENT PLUS members. Soon, The Wolf will leave to join the Army and Bert will opt for Ivy League college. Not seen in any of the photos, are group members not previously shown or mentioned. Below are some of those, who had other callings:
Andre' 'Bird Seed' Towles: 1st tenor/leads and the original 5th vocalist of the group back in 1964. One of the chief reasons the Chryslers got noticed by promoters, financers, and entertainment architects. Even today, we keep in touch. A wonderful personal friend.

David Maurice Crew: leads/1st tenor/promoter. Dave became successor to Darnel. An unusual soft voice, that may be comparable to the very early Al Green. Whenever I think of Dave, I think of the unexpected and laughs. A dedicated showman, who loves to perform, he went on to a solo act. While with the Chryslers, Dave made numerous performances, offered brilliant creative ideas, and added the functions of self-promoting to our talents. NO MORE Managers! Whenever our paths cross, Dave is still offering creative ideas for an entertainment venture.

Kenny Mc Echen: Bass/leads/baritone/1st tenor. Another gifted vocalist and great human being. I am still amazed how a man, who's natural talking voice is as bassist as the late Melvin Franklin of the Temptations, can lead a song like "You Got Me Going in Circles" by the Friends of Distinction. And do it in the original Key!

Besides being talented Kenny & Bert were our 'conscience' ... our humanity. "Namaste" gentlemen... I recognize that place within you, where the Divine resides

Lamont Davis: 1st tenor/leads and Andre's successor. A gifted voice, great character and camaraderie. I regret no pictures are available to honor his work, talent and contributions.

Steve Scribner: 2nd tenor/leads, "Scrib", as Darnell often called him brought new life and high energy to the group at a time when personnel changes seemed like a revolving door. I believe he caught a military calling too!

Mike 'Droop' Fielder: Leads/2nd tenor/1st tenor/vocal arranges. Droop was the heir to the vacated 'Hippie' who left to pursue his interest in Acid Rock music. Droop had grown up idolizing the Chryslers and now was being auditioned by them. Droop went on to make many stage performances with the Chryslers. He still remains a 'far flung' close friend.
Also, previously not mentioned are the bands that accompanied the THE CHRYSLERS and in some cases wrote and recorded with them or initially formed to join the singers but- created their own thing. Still others shared a camaraderie while creating music elsewhere. At this time no pictures are available for most of these.
THE CAMEROS: Some of the musicians that opted not- to go Jazz with the Vondells (not certain of the name) went to form or join other bands. Horace, a trumpeter, met Mr John Purdie Sr and put together a pretty good R&B band. Mr Purdy added some vocalist and the Chryslers were now looking over their shoulder. These guys were good! Mr Purdy did make an offer to the Chryslers to join his entertainment troop but- we took another path.
THE MASCALEROS: Managed by James West (not the TV GUY!) and co-managed by the drummer- Herb, were looking for vocalists.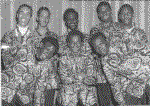 The band's name IS based on the Mescaleros Apache Native Americans. So, why the misspelling? Hey- that's show biz! The Mascaleros & The Chryslers toured for several years with many successful performances.
I am embarrassed to say, most of the band member's names I cannot remember. I will list as many as I can:
Front left & right, I have forgotten there names but I do remember interacting with them. They were a lot of fun Front center was called 'Doc'. He was the smallest man in the Band & Singing Group. Doc was a real up beat guy, who kept everyone laughing all the time. Often, he got in trouble at performances (women loved him) and some of us bigger guys had to 'back him up'!
Rear left is Saxophonist who's name I cannot remember. He was talented. Along with Gary (next to him) they designed most of the instrumental arrangements for the band & singers.
Gary's last name eludes me. Gary was a talented lead guitarist with great creative skills. I believe he would have made a great composer. Gary was a 'happy-go-luck' guy. He was a musician just for the fun of it! With his appearance, Gary belonged as a lead man in a romantic Errol Flynn type of movie. However, when you heard him speak, his accent was that of a Southern Gentleman right out of Gone With The Wind! Very, very country. Gary was a great person & friend.
Rear, 3rd from left, next to Gary is Herb. Herb was the drummer, co-founder of the Mascaleros, and co-manager along with James West. Herb remained a close friend to me for several years after my music career ended but, we have loss contact since then. Herb was the 2nd smallest member of the group but, quite capable of knocking out men twice his size! An excellent drummer. Great to work with. A serious businessman, he & I approached entertainment with similar attitudes. Watching Herb be a "Big Brother" to Doc was a sight to see!
Rear, 2nd from the right was a Trombone player but he and the far right person's names elude me. Also, not in this photo is James West, the Band's manager co-manager with Herb and Senior Partner Owner. James was a good friend when he managed the Mascaleros and remains a good friend though we have not kept in contact. Whenever, our paths cross, we have trouble going our separate ways because we want to catch-up on old times. James and his wife Shirley will always own a fond place in my memory.
THE MONARCHS: Originally started out as a Rock & Roll Top 40 band back in the early 60's. Chuck Weber and Mr. Winchester facilitated bonding the Monarchs and the Chryslers to become the 1st integrated musical performing act to come out of Maryland. A fusion of 15 musicians several 'regular' GO-GO girls and a host of fan clubs around the state. Eventually, the Monarchs would transform themselves into a Rock & Acid Rock band and have some successes. Most of the names I have forgotten but, here are some: Gary (base guitar?), Rick (rhythm guitar) Fran Breznicky (keyboards), Vic (drummer), Ronnie Breznicky (lead guitar), Pattie Breznicky (Dancer), Mr & Mrs Breznicky (Managers), Chuck Weber (business manager), Joe Sokolas (of WJZ TV Engineer: Engineering/Recording Manager), Phil Kolodner (of Kolodner Clothiers: Clothing/Wardrobe Manager).

The 2 recordings released in the mid 60's, i'M NOT GONNA LOOSE YOU and BECAUSE I LOVE YOU, were written, arranged and recorded by THE CHRYSLERS and THE MONARCHS BAND.
Sound Experience: They have never been part of the Chryslers but, we share in a parallel of fateful history. When I 1st approached J. Lindsay to create a band, I also, approached other members of my Calverton Junior High School music alumni. They included Steven Gail (became a music consultant to game shows.), "Yag" Rodgers (became a Jazz Oboist), Albert Williams (became a Gospel keyboardist) and Melvin Miles (became music director of Morgan State University). J. Lindsay was a talented Tenor Saxophonist (became a successful Jazz Saxophonist in the local area). Melvin Miles was an exceptional Trumpeter. All of us from the same Junior High School Band.

Miles & Lindsay were also, 2 key musicians in the success of the Sound Experience recording artists. The Sound Experience also, were from Baltimore, MD.
---
---